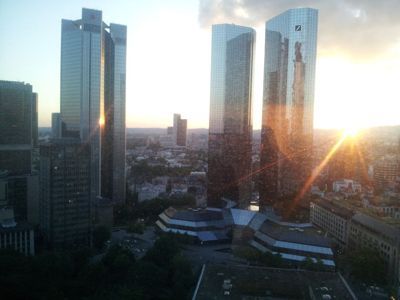 Sunset on skyscrappers
CC-BY
Hosting the headquarters of most German banks, and the European Central bank, Frankfurt-am-Main is truly the German and European banking capital. The old town is pretty small, but guests are mostly amazed by Mainhattan, the district with some of the highest skyscrappers in continental Europe, named after the Main, the river around which the city was built.
Is tap water safe to drink in Frankfurt, Germany ?
Yes
Average prices in Frankfurt (USD)
Public transport ticket : 2.97 |
Taxi (5km) : 14.97 |
Train (200km) : 59.4 |
Restaurant (2 persons) : 80 |
5* hotel : 290 |
3* hotel : 120 |
Appartment rent : 1220 |
Women haircut : 43.97 |
Men haircut : 29.19 |
Weekend city break (2 persons, 1 hotel night, without flights) : 700
Compare with other cities
|
|

Frankfurt am Main, Germany
Find accomodation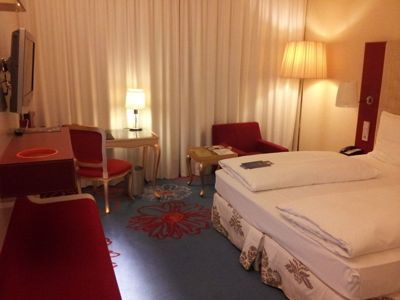 Room with double bed
CC-BY
Great hotel, with a peculiar design, it features a swimming pool on upper floor, good restaurants, and easy access to metro, although a bit away from center, but close to the trade fair.

Great 5/6 (1) |

Perfect wifi |

Expensive ≅ 120 EUR
|

Franklinstraße 65, 60486 Frankfurt am Main, Germany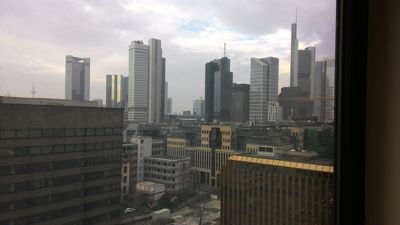 Room view on Mainhattan skyline
CC-BY
Comfortable hotel ideally located at walking distance from the central trainstation, including metro and tramway networks. It offers a 24h fitness, a restaurant and a lobby bar.

Average 3/6 (1) |

Good wifi |

Expensive ≅ 125 EUR
|

Wilhelm-Leuschner-Straße 43, 60329 Frankfurt am Main, Germany