No picture
Home to the most important sport events in the area, with Roland Garros and football matches in Le Parc Des Princes stadium, but also of some international French companies headquarters, Boulogne might be a place of choice to visit either for business or for leisure. Situated right next to Paris, and easily accessible via metro, it can also be a good alternative to staying in Paris center.
Is tap water safe to drink in Boulogne-Billancourt, France ?
Yes
Average prices in FR (USD - 1€ = USD$1.2338 )
Public transport ticket : 1.95 |
Taxi (5km) : 12.04 |
Train (200km) : 32.5 |
Restaurant (2 persons) : 70 |
5* hotel : 240 |
3* hotel : 130 |
Appartment rent : 670 |
Women haircut : 42.53 |
Men haircut : 22.71 |
Weekend city break (2 persons, 1 hotel night, without flights) : 650
Compare with other cities
|
|

Average 3/6 (1) |

Boulogne-Billancourt, France
See hotel availability on Booking.com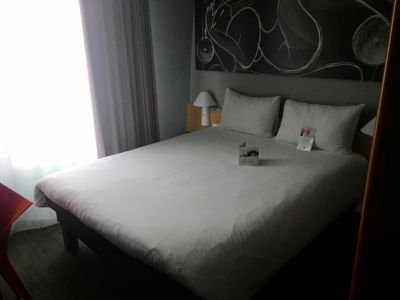 Large bed
At a short walk from the Boulogne metro station, in the heart of Boulogne Billancourt, this hotel can be a good choice if you don't necessarily have to stay in Paris center, if center is too expensive, if you have business or leisure in Boulogne.

Average 3/6 (1) |

Perfect wifi |
Affordable ≅ 75 EUR
|

12 Rue de la Ferme, 92100 Boulogne-Billancourt, France
Large bed
Cozy hotel situated right next to Boulogne Billancourt, at a mere 15min by taxi from Paris, this hotel is very comfortable and discreet. However, it is a bit isolated and there isn't much to do in or around, and it lacks amenities.

Average 3/6 (1) |

Perfect wifi |
Affordable ≅ 77 EUR
|

43 Boulevard de la République, 92210 Saint-Cloud, France