View on Barcelona
Barcelona is a very famous summer vacation spot - and it deserves it ! Featuring long beach, good shopping choice, huge airport, amazing parties, and not so expensive, it is a great place for a summer weekend getaway or more. However, beach and water aren't that clean, and the place is overcrowded - if you're only interested in spending your time relaxing on the beach and enjoying water, you might want to check other destinations.
Is tap water safe to drink in Barcelona, Spain ?
Yes
Average prices in Barcelona (USD - 1€ = USD$1.2048 )
Public transport ticket : 2.32 |
Taxi (5km) : 10.25 |
Train (200km) : 25.3 |
Restaurant (2 persons) : 110 |
5* hotel : 250 |
3* hotel : 160 |
Appartment rent : 740 |
Women haircut : 36.04 |
Men haircut : 19.79 |
Weekend city break (2 persons, 1 hotel night, without flights) : 600
Compare with other cities
|
|
Good 4/6 (1) |

Barcelona, Spain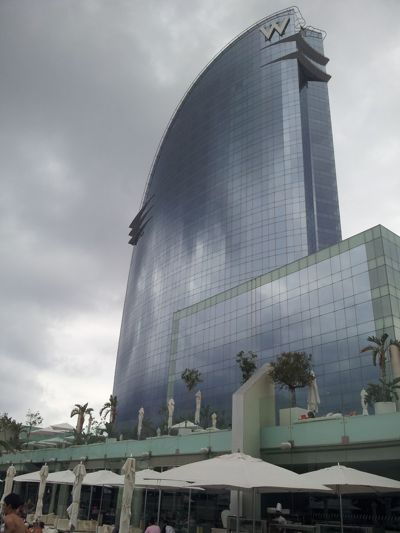 Hotel W Barcelona view from the pool
An amazing hotel with a perfect location - right at the end of the beach, for which a small part is privatized. Features a great outdoor pool, amazing sea view from the rooms, a rooftop bar, 2 restaurants. A little complicated to reach from airport with public transports, but nothing terrible. During summertime, it hosts every Sunday the most appreciated city's hotel party, free entry for hotel's guests and many interesting people from outside are attending. Definitely worth a visit !
Amazing 6/6 (1) |

Perfect wifi |

Extravagant ≅ 500 EUR
|

Plaça de la Rosa dels Vents 1, 08039 Barcelona, Spain