Mountain view in Pas de la Casa
For either ski, or duty free shopping, Andorra, a small principality entirely on top of the Pyrenees mountains, is a great place to visit.
Is tap water safe to drink in Andorra, Andorra ?
Yes

Andorra, Andorra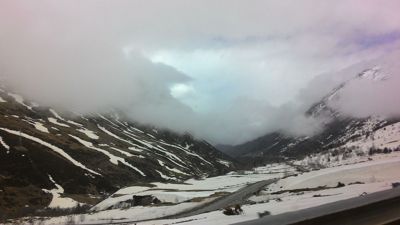 Road to Andorra
To get to Andorra, it most likely to fly to Toulouse airport TLS, and go by car, for less than 3h, to the Pyrenees, and Pas de la Casa, first city in Andorra, ski resort, and shopping spot.

Andorra, Andorra
The BEST, most complete, original and famous guided tour of Andorra la Vella including its historic center. You will not find any other guide or other ways to visit this city that will give you the depth and extensive knowledge that their tour offers. They love to establish an ongoing dialogue with their visitors to clarify any questions and doubts they may have about the Principality of Andorra. You will visit the emblematic and most interesting points of this wonderful city (Andorra la Vella) which is the capital of the Principality of Andorra. You will explore the most beautiful and famous sights of the city. They highlight its history, vibrant life, traditions, anecdotes and legends forged over time. But they also let you know what their future projects are. You will be delighted to discover together the best and carefully selected points of natural, cultural, historical, artistic, sculptural and architectural interest that contribute to Andorra la Vella's rich heritage. This interesting tour will allow you to get to know the attractive history of the Principality of Andorra, always referring to the framework of the sights they have visited. You will understand the uniqueness of this big little country they live in. They tour the political centers to show you how this country and its unique form of government work on a global scale. Among many other places that you will explore together: - Monumental statue of the genius Salvador Dali - Casa de la Vall (former seat of the Consell de la Terra or General, Parliament) - Historical center - The Romanesque church of Sant Esteve and its later extension - Paris Bridge- Private Art Collection - Vertical Garden - Central Park and its importance as the natural and social lung of the city - Town Square - The most interesting sights of granite architecture - Private art collection - Vertical garden - Central Park and its importance as the natural and social lung der Stadt - Stadtplatz - The most emblematic sights of granite architecture. - The best buildings of avant-garde architecture - And many more sights Do not hesitate and reserve your place now! You will just love it and this sightseeing tour will be an experience you will remember with joy for a lifetime! They recommend that you reserve your tour well in advance to ensure your participation. THE SPACES ARE LIMITED.
Amazing 6/6 (1)  |

Cheap
 |

Av. Meritxell, 80, AD500 Andorra la Vella, Andorra